The Cathedrals of St. Petersburg
St. Isaac's Cathedral
The weighty mass of St. Isaac's Cathedral dominates the skyline of St. Petersburg. Its gilded dome, covered with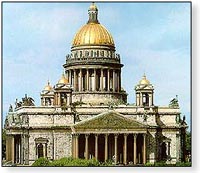 100 kg of pure gold, soars over 100 meters into the air, making it visible far out onto the Gulf of Finland. The Cathedral was commissioned by Alexander I in 1818 and took more than three decades to complete. Its architect, August Monferrand, pulled out all the stops in his design, incorporating dozens of kinds of stone and marble into the enormous structure and lading its vast interior with frescoes, mosaics, bas-reliefs, and the only stained glass window in the Orthodoxy. By the time the cathedral was completed in 1858, its cost had spiraled to more than twenty million rubles--as well as the lives of hundreds of laborers. Both the exterior and the interior of the cathedral deserve prolonged observation, and the view from the dome is stupendous.
Cathedral of Our Lady of Kazan
This cathedral is one of the most magnificent, and most peculiar, landmarks of St. Petersburg. Built in 1811 by Andrey Voronikhin, its plan is a strange compromise between a number of different architectural imperatives. Its patron, Paul I, desired a church plan modelled on that of St. Peter's in Rome, with its semicircular colonnade facing north so as to conform to the formal layout of Nevsky prospekt. This plan was carried out, but the orientation of the church itself was dictated by a higher authority. Owing to the Orthodoxy's requirement that the church altar and entrance follow an east-west alignment, the church itself sits sideways at the center of the colonnade, its main entrance facing west (as if this were not confusing enough, the present entrance is located on the east). On the square in front of the Cathedral are statues of the two commanders of the Russian army during Napoleon's march to Moscow, Barclay de Tolly and Mikhail Kutuzov.